DRIFTING RIDE-ALONG EXPERIENCE
The most thrilling ride on a racetrack!
The Drifting Ride-Along experience is truly an adrenaline shot! Exotics Racing's professional drifter will take you as a passenger for the Supercar full-speed drifting experience. Onboard the Dodge Charger SRT Hellcat, you will feel the rush of the 707hp V8 like nowhere else. The ride-along experience will amaze you with skillful racing techniques. This supercar is fully mastered by our expert racing drivers and it shows it on the racetrack! Buckle in for the adrenaline-pumping ride of your life!



Drifting Ride-Along
Dodge Charger SRT Hellcat

204 MPH
707 HP
3.4 S
US$65.900
How do you take up to three passengers for a sideways drifting, tire-smoking extravaganza of a thrill ride? Buckle them into a Dodge Charger SRT Hellcat. Why this car? To start, it's a four door sedan, so the two backseat passenger can get in with ease. More importantly, the Charger SRT Hellcat pumps out a whopping 707 horsepower and 650 lb-ft of torque.
SUPERCAR RIDE-ALONG EXPERIENCE
Pick one of three exotic cars below
Exotics Racing's professional drivers will take you as a passenger and show you what a supercar can do on our racetrack. Onboard the Porsche 991 GT3, Ferrari 488 GTB or the Lamborghini Huracan, these ride-along experience will amaze you with skillful racing techniques mastered by our experienced racecar drivers!


Supercar Ride-Along
Lamborghini Huracan

198 MPH
580 HP
3.4 S
US$216.000
It's like a time machine. Only faster. For the speed seekers the Lamborghini Huracan together with our racing drivers will have you at the edge of your seat. With 580 horsepower and our expert racing drivers, hold on tight and enjoy the high speed ride.
Supercar Ride-Along
Ferrari 488

205 MPH
660 HP
3.0 S
US$330.000
Supercar Ride-Along
Porsche 991 GT3 RS
193 MPH
500 HP
3.4 S
US$195.000
One thing is clear already: the 911 GT3 RS ride along is going to change the way you think about Porsches. With outstanding performance and offering excellent manageability, our racing drivers will break through the limits to give the Supercar experience.

RIDER ITINERARY
Our team of racing experts will guide you through the entire experience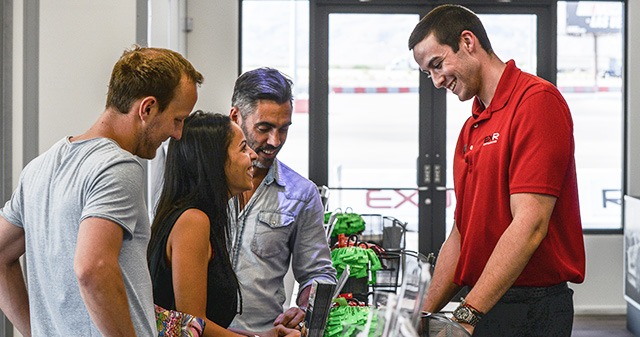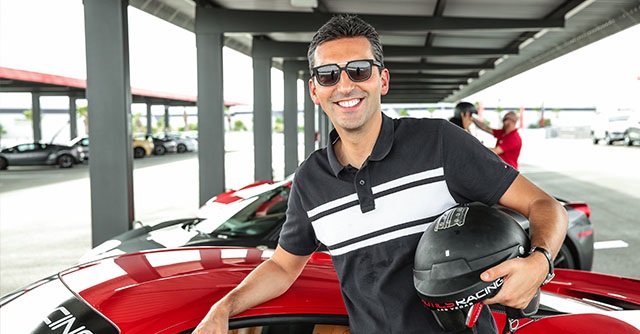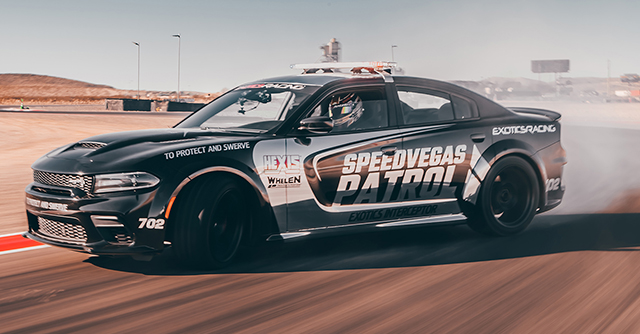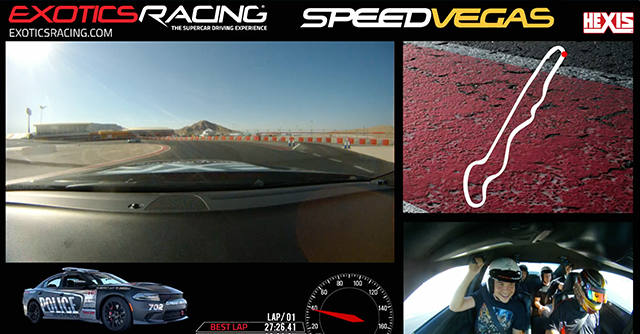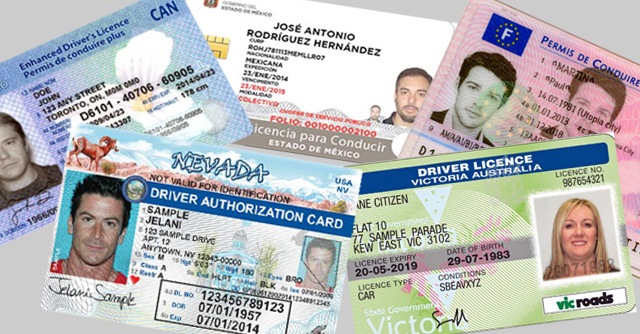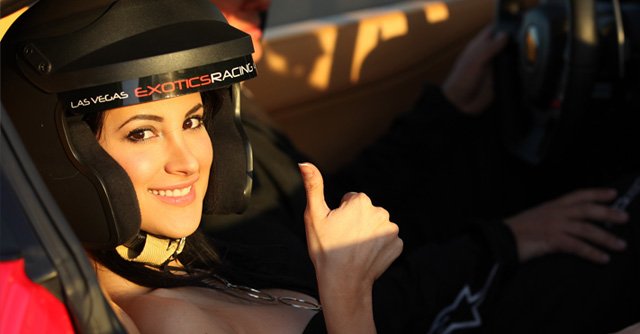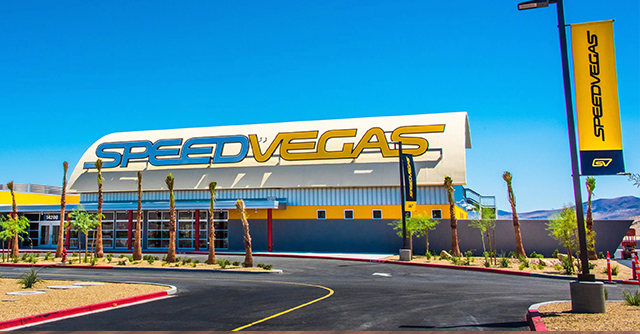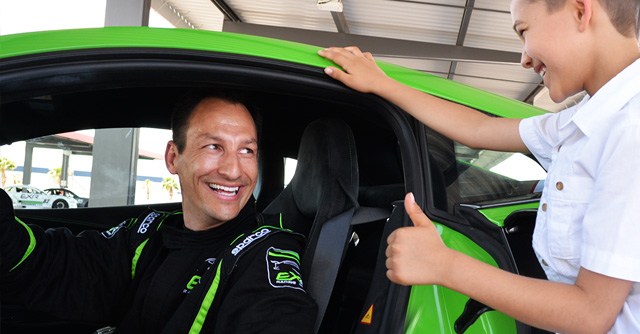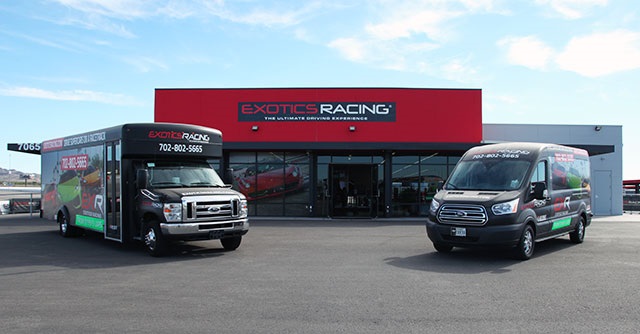 SUPERCAR DRIVING EXPERIENCES
Our Las Vegas location is at SpeedVegas Motorsports Park, just 15 minutes from the world famous Las Vegas Boulevard. Our exclusive 1.3-mile racetrack was designed by professional racing drivers to highlight our supercars performance capabilities. You'll find an example of many turns found on the world's greatest racetracks including hairpins, double apex corners, fast sweepers, chicanes, 90-degree corners and even a banked turns as well as large runoff areas, the latest high-tech safety barriers, and even the only in-ground LED lighting system in the US.
2,000 ft

Main straight away

1.3-mile

track length

7

days open

8

turns

140 mph

top speed

15 min south

Off the las vegas strip
7.253 Reviews
Over 400,000 Happy Customers! We've become a top rated racing attraction in Las Vegas. See what others have to say about their exciting driving experience at Exotics Racing.

octubre 9, 2010
from booking online, to the quality cars, to the great instructors, I recommend this experience to ALL car and speed lovers. Do not miss the ride along!

octubre 9, 2010
Driving an exotic was the main reason I came to Las Vegas and this experience didn't disappoint. The track layout was technical enough to make it very fun and keep the grin factor high. The staff was professional, knowledgeable, friendly and genuinely interested in making the most of my driving experience. My only warning is that driving these cars may cause an addiction to track time. I'll definitely do this again when I return to Vegas.

octubre 6, 2010
I'm so delighted I found you all. This was a birthday gift for my husband and he was thrilled beyond all measure - he was so excited his stomach was upset the next day - and he said his heart rate has never been that high (he runs marathons). This is not my sort of thing but the cars are stunning and the track is really difficult - I dont know how he just got out there and raced a ferrari. He wants to do it again...

octubre 6, 2010
I can still feel the hum of the engine in my head and in my heart from this fast-paced experience. The respect I have for my driver goes beyond anything I can describe in words. The entire experience will go down in the diary as a "forget me not!" Thank you Jim Switzer for your courtesy and hospitality.

octubre 6, 2010
To all at Exotics Racing. Thanks for a great day, it was the highlight of my recent trip to Las Vegas. I was able to tick one of my "life" boxes, driving the Ferrari 430 Scuderia, it was a dream come true. Special thanks to Rudy for making my wife scream in the Porsche 997! I can't wait to come back and hopefully drive the 458 Italia. Many thanks, Tony A.

octubre 2, 2010

octubre 2, 2010
Two words: Awesome and Insane!

octubre 2, 2010
I recieved this as a gift from wife, now I have to try and find something just as good for her! This was amazing, and definately on of the bucket list moments in my life. I am so glad I called ahead and spoke with the staff. They told me what combination of cars to choose and it was perfect. I can't wait till the next gift giving occasion, this is at the top of my list!!!

octubre 2, 2010
It was a great experience and a great rush. The cars are beautiful and the people were great, they went out of there way to make you feel like you really knew what you where doing.

octubre 2, 2010
Getting to drive the Ferrari F430 F1 was amazing, and the instruction on the track helped me get the most out of another great day in Las Vegas. I will be back to drive one of the other cars very soon. It would be good if you could add a V12 Mercedes AMG to the fleet too. Peter Wales (UK)

octubre 2, 2010
The Lamborghini Experience was a surprise 21st birthday gift to my son. It was a dream come true. He was blown away. Thanks, you guys are the best.

octubre 2, 2010

octubre 2, 2010
Do this once to learn the thrill, and then do it again to experience the thrill in exponential increase! My pulse still races every time I show the video.

octubre 2, 2010
Truly couldn't have been a better experience, except my instructor wouldn't let me keep the car when I was finished.

septiembre 29, 2010
New cars, great instructors, nice track. This experience exceeded all of my expectations (and they were high to start). I will definitely be back - they almost had to pry me out of the cars this time :)

septiembre 29, 2010
What a great Birthday experience, cars are awesome and Exotics Racing Team was the best, I couldn't ask for more.

septiembre 29, 2010
The best money I spent in Vegas by far. A must do for the car enthusiast.

septiembre 25, 2010
I'd like to request the Aston Martin DBS, I'd be back for sure if you had that car. Thanks for a great experience!

septiembre 25, 2010
Peter and the Scuderia were excellent. His coaching style throughout drive made the experience more worthwhile. We got into a rhythm quickly and I was able to navigate the course with confidence and a lot more speed. GO AND REQUEST PETER IN WHATEVER CAR!!! The ride along is highly recommended.

septiembre 25, 2010
Thanks for the once in a lifetime experience! Can't wait to come back!

septiembre 25, 2010
I have been waiting for over 20 years for something like this. I am hooked and I will be back again and again. Great job guys be proud.

septiembre 18, 2010
I bought this as a birthday gift and he had the best time. Where else can you drive a Ferrari as fast as it will go. Makes for a great gift for the man in your life.

septiembre 18, 2010
Exotics Racing Rocks!!! I had a blast and I will NEVER forget my laps in the Lamborghini. I would refer anyone to come and do this as it is AMAZING!!!

septiembre 18, 2010
Amazing, simply amazing! This was the best birthday gift ever. When you go (not if, but when) you must experience the drifting ride-along, what a rush. I'm already planning my next trip to Exotics Racing to drive the LAMBORGHINI MURCIELAGO LP640!

septiembre 18, 2010
The experience is awsome, the cars are awsome, but what was certainly the most surprising thing is that instructors push your driving to the limit, they do not try to hold you on, they are always trying to make your lap a really fast one