Stay updated with news, favorite photos, and terrific videos about our Supercar Driving Experiences in Las Vegas. Exotics Racing have been featured in some of the most prestigious publications and automotive websites including Road & Track, Car and Driver, DuPont Registry, Racer Magazine, Popular Mechanics, LA Times, US Today, Hollywood Reporter, Vegas Magazine, Luxury Magazine, Robb Report, and Autoweek just to name a few. Our Communication and PR team is dedicated to provide every media with information about our activity such as new supercar deliveries on track or racing events. Contact us for more information about Exotics Racing Group or to schedule your next visit at one of our racetrack: [email protected]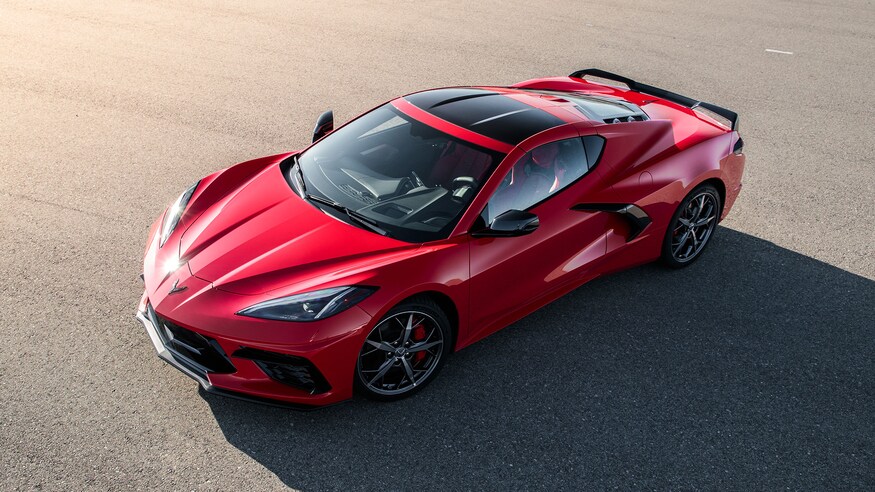 The new CORVETTE C8 Z51 is now available!
We are proud to welcome the incredible Corvette C8 Z51 to our supercar fleet.
This all-new mid-engine sports car is completely redesigned from the ground up to deliver a thrill on every drive. The new engine placement provides rear weight bias, meaning more power is directed to the rear wheels where it matters most. And with the windshield now over the front wheels, there's improved downforce without the need for a front air dam.
The standard dual-clutch transmission features lightning-quick shifts, combining the smoothness of an automatic with the action of a manual. And since there's no deceleration between shifts, your lap times will benefit, too.
The Las Vegas heat is no contender for the Z51 Performance package. It enables the new mid-engine sports car to run continuous racetrack laps without overheating or losing braking efficiency while going faster and handling better than the base C8.
It also provides the Performance Traction Management (PTM) system. PTM enables the driver to fine-tune how much the stability-control system intervenes in Track mode. For more consistent racetrack braking performance, the Z51 is equipped with larger brake rotors compared with the base C8.
Corvette Z51s benefit from an electronically controlled limited-slip differential that's at work even when the stability control system is fully disabled.
The Michelin Pilot Sport 4S ZP summer tires give the car all the necessary grip to put the power on the track.
"The C8 is certainly one of the most advanced American sports cars on the road, it could be one of the best, too," said Romain Thievin, Exotics Racing's Founder and CEO. "We are proud to allow our guests to get behind the wheel of this beast and test its limits."
To understand what both the car and driver are capable of requires just a few laps of Exotics Racing's track. With that understanding comes the next realization – it's hard to stop at only a few laps.
Specifications
Power / Torque: 495 hp / 470 lb-ft
Track Top Speed: 194 mph
0-60 Time: 3.0 seconds
Engine: 6.2L LT2 V8
Drivetrain: Rear-wheel-drive
STOP BY OUR TRACK TO DRIVE THE NEW CORVETTE C8 TODAY!
OTHER NEWS